"This copy of the Install OS X El Capitan application can't be verified. It may have been corrupted or tampered with during downloading."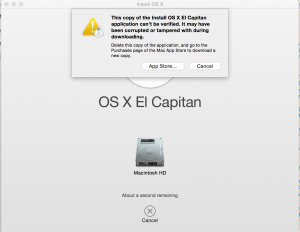 O problema des intalnita la reinstalarea OSX  este eroarea prezentata mai sus.
De cele mai multe ori aceasta eroare apare dupa inlocuirea bateriei sau defectarea bateriei interne/CMOS in cazul Mac Pro si Mac Mini.
Rezolvarea consta in setarea datei din consola  Terminal.
Pentru setarea datei si Orei aceasta faceti clic in bara de sus  Tools -> Terminal , dupa care setati data/ora folosind urmatoarea comanda:
   date [mm][dd]HH]MM[yy]
Unde inlocuiti:  mm-Luna , dd-Ziua, HH-Ora, MM-Minut, yy-Anul urmat de tasta Enter
ex. date 012203083215 ->   Ora 08:32 Ianuarie 2015